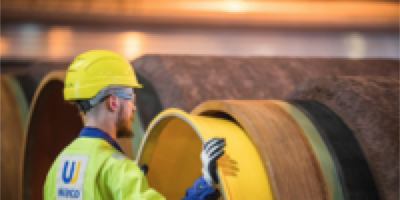 By Sebastian Sass
EU Representative of Nord Stream 2 AG (picture © Nord Stream 2/Axel Schmidt)
It is no secret that European businesses and industries, especially the energy intensive sectors, must overcome a structural disadvantage compared to other regions: higher energy costs. This is partly because Europe imports a considerable amount of the energy it consumes. This is also true for natural gas, which is used to generate electricity, produce heat, power vehicles and used in manufacturing processes. Deliveries from Norway, Algeria, Russia, the U.S., Qatar, Nigeria, Trinidad-Tobago and other gas exporting countries ensure that European gas imports are more diversified than ever before.
Europe's gas imports are rising – but can infrastructure keep up?
Demand for natural gas in the EU is expected to remain stable until at least 2030, if not beyond that. Earlier this year, the European Commission reported that gas consumption in Europe has reached its highest level since 2010. The role of natural gas in Europe's energy mix will remain significant, especially if Europe is committed to its climate objectives. Switching from coal to natural gas in power production is the quickest and most cost effective way to considerably reduce CO2 emissions. Modern natural gas-fired power plants emit around 50% to 60% less CO2 than coal-fired power plants.
This means that Europe's demand for natural gas imports will only increase, because domestic gas production in the EU is on a rapid decline. Recent developments at the Dutch Groningen gas field illustrate this development: in 2017, the Netherlands became a net importer of natural gas for the first time, instead of being an exporter. In March this year, the Dutch government announced it will cut production at Groningen to 12 billion cubic meters (bcm) per year by 2022, and to zero by 2030. Compare this to 2013, when Groningen produced 54 bcm of natural gas. In total, the EU is expected to lose about half of its domestic gas production within the next 20 years.
It appears that many policy-makers and commentators have not adequately recognised the magnitude of this challenge. Discussions about supply security are far too often stagnating around the share of gas imports from Russia while in reality the choice of external suppliers for European consumers has never been greater than today. Meanwhile, Professor Jonathan Stern from the Oxford Institute of Energy Studies has correctly pointed out that "the key development that nobody outside the gas industry recognises is the collapse of Dutch production at the Groningen field".
It is a fact that Europe faces a supply-demand gap. It can only be met by a combination of gas imports by ship from the world market of LNG (Liquefied Natural Gas) and by pipeline from mainly – but not exclusively – from Russia. The share between competing suppliers will be set by the market. Thanks to the successful liberalisation and integration of Europe's gas markets, no single supplier can abuse its position vis-à-vis European customers. Luca Franza, Researcher on international gas markets at the Clingendael International Energy Programme (CIEP) in The Hague hits the nail on the head when he argues that "head-to-head competition between LNG and Russian gas is proving a blessing for the EU." It will support more optionality, lower prices and secure supplies for European consumers.
Europe needs to remain attractive for investments in its energy infrastructure
To safeguard future security of supply, it is crucial to ensure that the EU retains its attractiveness as a destination for investment in gas infrastructure. Such investment also provides a positive stimulus for employment and prosperity in Europe. Nord Stream 2, for instance, represents a multi-billion euro investment in European industry and services, involving over 600 companies from 23 countries. The total economic benefit from project implementation for the EU has been calculated at over €5 bn, creating employment of around 31,000 full-time equivalents over five years in the EU, and adding €2.26 bn in GDP.
Nord Stream 2, as an efficient, reliable, modern offshore gas transportation system, will offer an additional competitive transport option for bringing gas to major demand centres within the EU's internal market. European households and industries will benefit from the new infrastructure with gas prices across the EU becoming up to 13 percent lower when the pipeline is operational in 2020.
Regulatory certainty needed to support investments.
Against the backdrop of declining domestic production and increasing import needs, the European Commission should continue its efforts to ensure that all EU Member States fully implement the common rules for the internal gas market and address the few remaining bottlenecks in the European gas infrastructure grid. Nord Stream 2 believes in the attractiveness of the EU's internal market and is therefore in the midst of creating additional import infrastructure with a capital expenditure worth €8 bn.
The regulatory environment should continue attracting and encouraging such investments. To this end, it is not helpful that the Commission has recently hurried through a proposal for significant regulatory changes for import pipelines, while omitting an impact assessment and skipping an advance-hearing of stakeholders. Unsurprisingly, the feedback from European industries has been overwhelmingly critical about the content and the process of the proposed legislation. It appears that political considerations have been overriding the need for a regulatory framework that supports investment and competition to the benefit of European consumers.
The European Business Summit 2018 is a suitable occasion to remind the European Commission once more of its own commitment to jobs, growth and investment. A well-supplied, diversified and competitive internal energy market is a fundamental precondition for achieving these objectives. Nord Stream 2 is happy to help make this a reality.