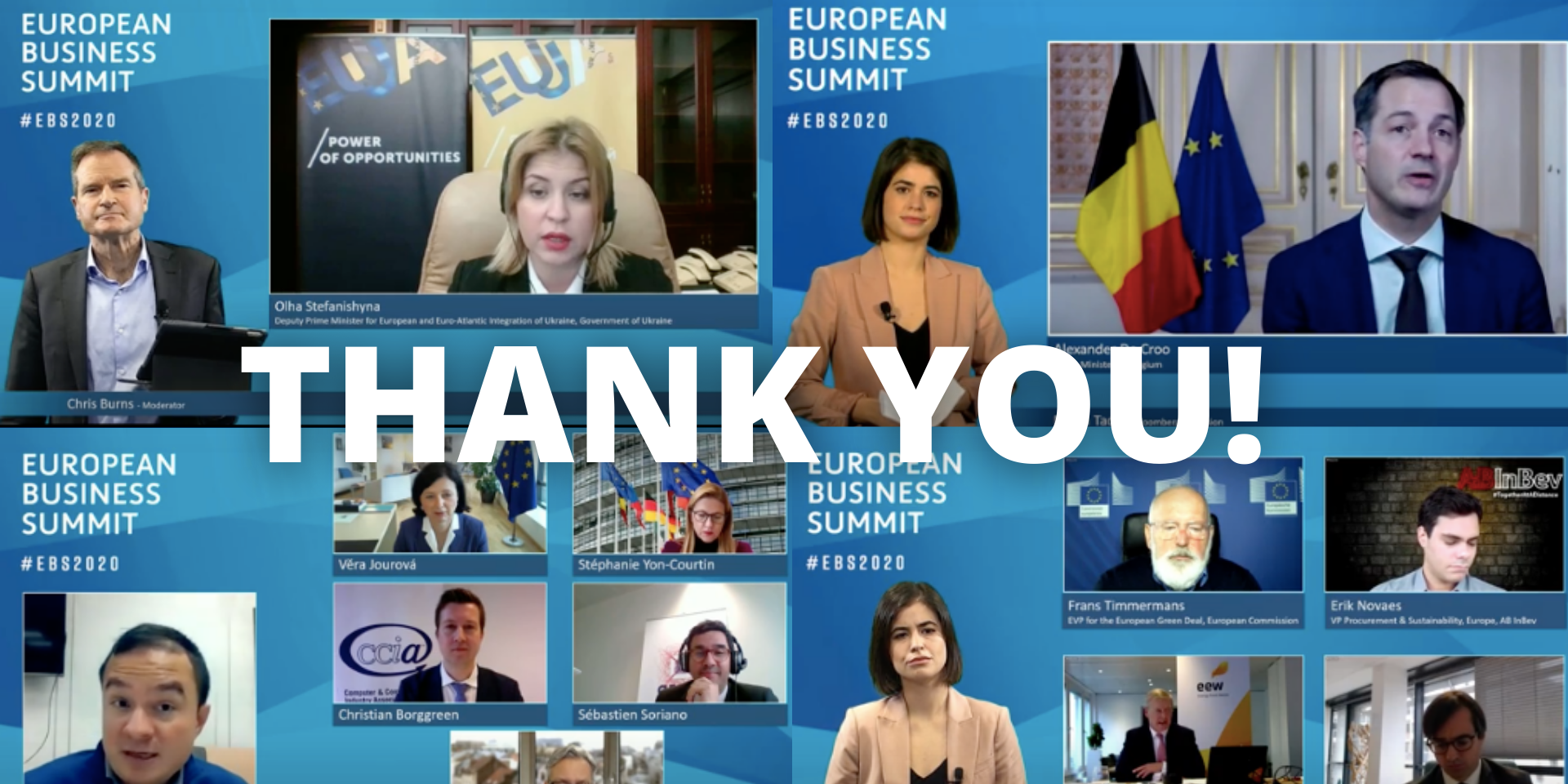 Over 6000 participants attended the European Business Summit 2020 edition!
On 16 & 17 November, EBS2020 live-streamed 30 high-level panels and interactive interviews featuring over 60 high-level speakers from business, policy, civil society, and academia!

Among the highlights of the European Business Summit 2020 edition:
EBS2020 kicked off with an interview to Alexander de Croo by Maria Tadeo, Bloomberg TV reporter. The Prime Minister of Belgium discussed how the Belgian government is supporting citizens and businesses hard-hit by COVID19.
Valdis Dombrovskis, Executive Vice-President for Economy and Trade, spoke at EBS2020 on reviving the transatlantic relationship as the EU and the US work together as strategic partners to face challenges in the economy, trade, security, and other areas of cooperation. "We need to restructure the economy in a sustainable way."
During EBS2020's session "How to Reconcile Green and Growth?" Frans Timmermans, Executive Vice-President for the European Green Deal, highlighted the importance of supporting SMEs through quality regulation.
At EBS2020's session "Digital Education in Europe", Mariya Gabriel, European Commissioner for Innovation and Youth, presented the Digital Education Action Plan, which aims to make digital literacy & skills a key part of our education systems.
"Reaching big audiences comes with great responsibilities" highlighted MEP Stéphanie Yon-Courtin at EBS2020's session "Regulation of Digital Platforms".
Olha Stefanishyna, Deputy Prime Minister for European and Euro-Atlantic integration of Ukraine, discussed the most interesting issues of the EU-Ukraine trade agenda with journalist Chris Burns during the EBS2020 session "Green and Sustainable: The Future of EU-Ukraine Trade Relationship".
This page will also provide you with all the information on the speakers and the highlights of each session.