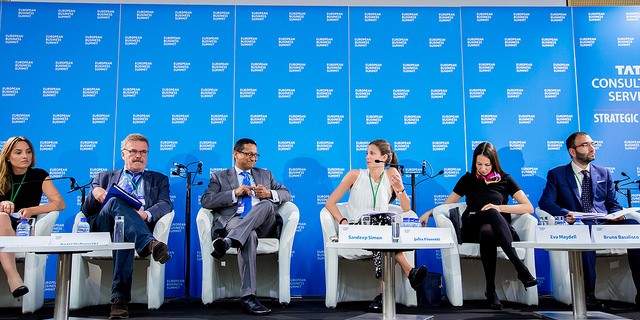 Synopsis: The key takeaways from the digitalization session were that in order to overcome the biggest societal concerns, it is crucial that the education system, private sector and stakeholders are prepared to adapt. More investments need to be made to develop both legislation and skill sets of workers.
The following speakers contributed to the session, moderated by Julia Fioretti – Reuters:
1. Katarina Jakimowicz, Associate Director for Economic Competitiveness and Social Renewal, Lisbon Council
2. Tomasz Husak, Head of Cabinet of Elzbieta Bienkowska, EU Commissioner for Internal Market, Industry, Entrepreneurship and SMEs
3. Sandeep Simon, Head Utilities Europe, Tata Consultancy Services
4. Eva Maydell, Member of the European Parliament
5. Bruno Basalisco, Head of Digital economy service, Copenhagen Economics
The session focused on the challenges for Europe that the new era of digitalization is bringing. Despite having a huge potential, digitalization poses, in fact, a number of challenges to business models, consumers, workers and society at large. In order to benefit from the opportunities of digital innovation, it is crucial that all stakeholders are prepared to adapt.
One of the first points that the speakers raised is the gap in digitalization between large companies and SMEs: investments in innovation and adoption of new business models in SMEs are not comparable to those of made by larger companies and they are not sufficient for them to remain competitive. Yet another gap in investments is present today: European private sector investments in digital innovation are not in line with global trends. This hinders the competitiveness of Europe vis-à-vis global competitors.
There was a consensus amongst panellists on the crucial relevance that digital skills are playing and will play even more in the future. Indeed digitalization will undoubtedly mean that the job market will change: there will be less demand of some "old-school" jobs, while new ones will emerge demanding a different combination of skills. Workers will need to develop at least a basic level of digital skills: this implies investments from employers and possibly structural changes in the institutional schooling systems.
Panellists noted that in order to make sure that Europe can capitalise on the opportunities that digitalization brings, it is necessary to have a strong leadership. Citizens are often scared by the way the effects of the digital transformation are portrayed in the media or from some politicians. Politicians should instead provide the much-needed leadership that is necessary to change the societal mindset around these issues. Strong leadership should come not only from politicians but from entrepreneurs as well: business models will be required to adjust in order to survive and profit from digitalization.
The session concluded with remarks that overcoming the biggest societal concern, i.e. changes in the job market, will require action from different perspectives: the private sector will have to invest more in developing employees' skill sets, legislators will have to provide a strong leadership and change the narrative around this issues, finally the educational system might need to change in order to provide new and older workers with the right skills.