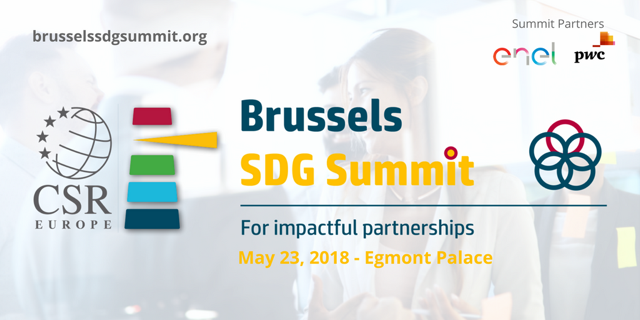 How to empower youth for the Sustainable Development Goals (SDGs)? Or how to reduce food waste along the value chain? And what is the way to advance international cooperation for circular solutions? These are some of the issues that CSR Europe's Brussels SDG Summit aims to find solutions to through advancing collaborative actions for the SDGs.
The SDGs have provided a common language to use, which has been adopted widely across sectors and institutions. Now the next step is to take practical action. The participants of the Brussels SDG Summit's Roundtables session set out to tackle some of the specific challenges linked to the SDGs. By bringing together experts, practitioners and policymakers to discuss these challenges, the aim is to achieve practical solutions and elaborate collaborative actions.
David Grayson, Emeritus Professor of Corporate Responsibility at Cranfield School of Management, will inspire the participants of the roundtables with an opening speech. Grayson has an extensive background in campaigning for business, diversity, and small business development, and has been active in organisations such as Business in the Community, UK Small Business Consortium and Prince's Youth Business Trust.
The SDG Challenge Roundtables will include 15 roundtables each focused on a specific topic linked to an SDG. Participants will choose 1 table in which the challenge will be briefly explained by a speaker followed by a structured discussion to incubate solutions and collaborative action.
The wide set of topics tackle several SDGs such as quality education (SDG 4), reduced inequalities (SDG 10), responsible consumption and production (SDG 9), and many more. For instance, Emma Hope, EMEA Sustainability Manager at Canon Europe, and Rania Soulaki, Group CSR & PR Director at Hellenic Petroleum, will present the topic of 'How to empower youth for the SDGs'. The roundtable for 'how to reduce food waste along the value chain' will be opened by Florence Rossi, Director Corporate Responsibility & QHSE Benelux at Sodexo, Hélène Castel, Project Manager at International Food Waste Coalition and Stefania Lallai, Sustainability and External Relations Director at Costa Crociere. The question of 'how we can advance international cooperation for circular solutions' will be tackled by MVO Netherlands.