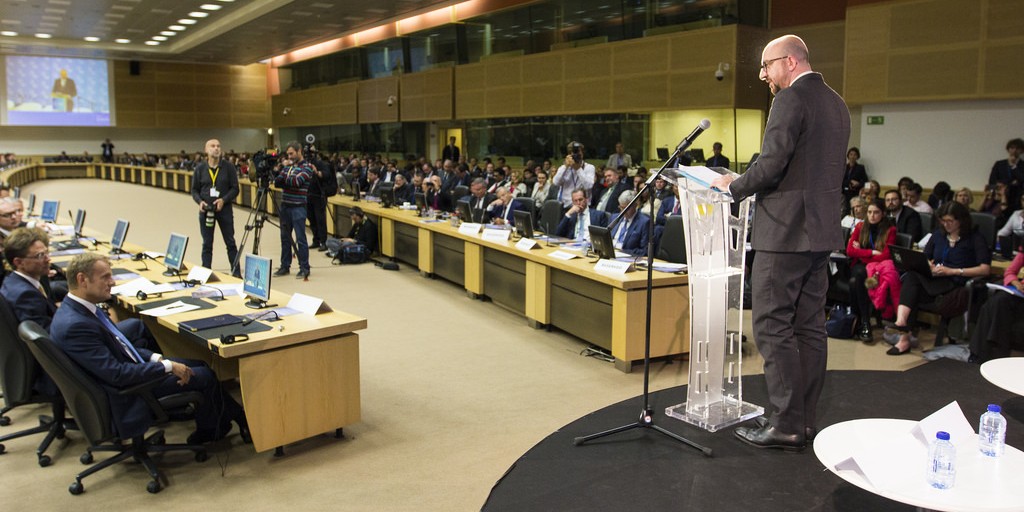 Plenaries, Roundtables, Agora discussions, Meet the Expert meetings - EBS' programme offers a great variety of sessions' formats but what do they all entail? Our participants will have a chance to choose between larger panels - with top-level speakers express their views on major issues concerning the EU - and smaller, more informal and more interactive discussions with experts on topics which have the potential to reach the top of European and international agendas in the years to come.
The opening and closing plenary sessions are the largest gatherings during the Summit. Organised in the Egmont Palace's largest hall, they are attended by around 500 participants and the most senior speakers, such as Presidents of EU institutions, high-level national politicians and top executives of major European enterprises.
Roundtables are large sessions for around 100 participants. They have a dedicated topic related to current challenges facing the EU. The discussions take the form of a moderated debate between 4-6 high-level speakers, such as EU Commissioners, Directors-General, MEPs and business representatives. Some roundtables are accompanied by a brief Q&A session with the audience.
Agora discussions are smaller sessions during which around 50 participants get an opportunity to hear from 3-4 speakers discussing topics on which the EU has often not yet developed a clear stance, but which have a great potential to come under the spotlight in the near future. Agoras provide for a more fluid debate and attract high media attention, thanks to the originality of the issues being discussed. Moreover, Q&A sessions with the speakers give the participants a unique chance to get involved in the discussion.
Finally Meet the Expert meetings consitute the most informal and interactive debate between 1-2 speakers and their audience comprised of around 25 participants. The discussions concentrate on very narrow topics which are first explored in-depth by the expert and further explained and developed during the Q&A sessions.